Earlier this year, I learned that Free RPG Day is a thing! Similar to Free Comic Book Day, gaming stores can purchase kits with free modules and giveaways to promote role-playing games. I mentioned this to our gaming committee, and we were EXCITED. It's right in line with what we want to do, and bring gaming to our library spaces. We didn't hear about it early enough to plan events for it, so we discussed what to do, and decided we'd continue to promote gaming in our branches and mention that Free RPG was coming up, and encourage our patrons to visit their local retailers for goodies.
SO! My teen and I hit the local gaming store in our area – shout out to Gamestoria in Astoria, Queens! – and picked up some modules. The staff is fantastic, very approachable and knowledgeable. We picked up:
Epic Encounters: Bridge of the Duerger Cult, from Steamforged Games (compatible with D&D 5e, playable for novices through experienced players). I saw this box set at GaryCon earlier this year and wanted to give them all the money. This free module gives me a chance to play, get a feel for gameplay and ease, and with luck, I'll be able to invest in this for my library (or home. Or both.)
Dungeon Crawl Classics: Danger in the Air!, from Goodman Games. My brother-in-law introduced me to Dungeon Crawl Classics back in March, when we were at GaryCon. They put out consistently good modules (I have a few that I picked up in March), and they are great about giving free modules away at events, to promote their games. DCCs are stand-alone and world-neutral; it's compatible with Dungeons and Dragons 5e. This is a Level 0 adventure; great for introducing new players to a D&D-type world.
Also from Goodman Games, the Teen picked up Three Wizard Conundrum, another 5e compatible module. This one is better for 3rd or 4th level players.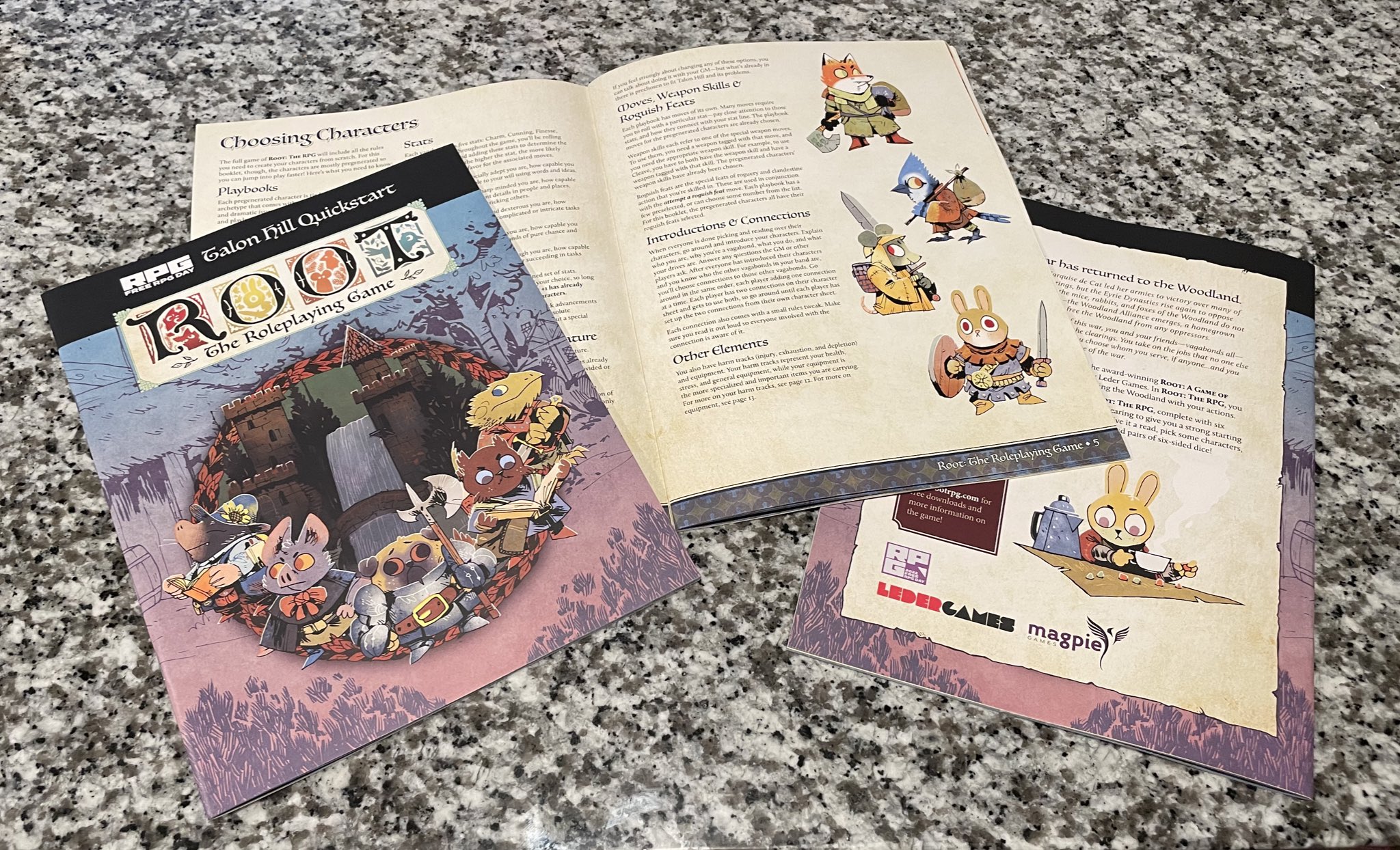 I was so excited for this one! Root is a roleplaying game from Magpie Games, where players play woodland creatures in a fantasy setting. I loved the Mouse Guard comics, (also an RPG!) and I am all about anything that lets me be a cute woodland creature who's also a little badass, so this speaks to me. This year, Magpie gave out a Quickstart module for their Talon Hill story, and I cannot wait to show this to my library kids (because my 10 year old is already on board for this one). It's an E for Everyone game, so definitely get a good look at this one.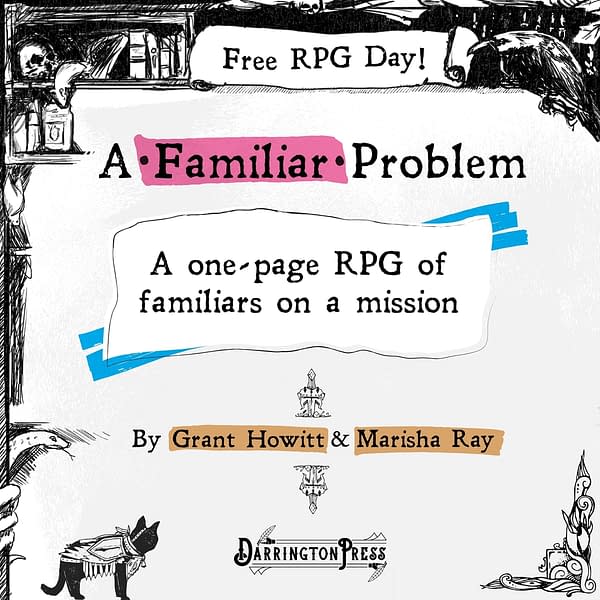 Finally, we get to A Familiar Problem, a one-page RPG from Darrington Press, the tabletop publishing arm of Critical Role, a weekly livestreamed show that's also a roleplaying campaign. One of the folx at Gamestoria talked this one up for me, and I am so glad. In A Familiar Problem, the players are familiars – magical creatures who assist magic users (think Hedwig in Harry Potter). Players can pick from 12 different Familiars, including Bats, Lizards, Owls, or Hawks. The point of the game is to go on your own adventure with your Familiar companions when your magic users are away, and how can you NOT talk that up? My Teen devoured Adam Jay Epstein's series The Familiars when he was a middle grader, and immediately said, "We're playing this, Mom." Again, this looks like a quick, easy, fun game to bring to your younger gamers as well as your more experienced gamers. Because honestly, who doesn't want to be a smart alecky raven who can summon a horse? (Yes, that's absolutely going to be me.)
There was much more available, but I wanted to make sure other people had a chance to get stuff. For those of you, like us, new to Free RPG Day, let me also direct you to Level 1, an anthology of indie RPGs collected and distributed for free by 9th Level Games. There's something for everyone in these (I've downloaded 2020's and 2021's), and am hoping to use one or two of these this summer in my branch's RPG program.
So this is great, but how can libraries get involved? I'd love to work with Free RPG Day to buy kits to distribute at my branch! I'm waiting to hear from Free RPG Day on how we can work together in the future, but until then, here are some things I've been thinking of:
Keep an eye on when Free RPG Day is happening, and plan events close to the day. Follow Free RPG Day on Facebook, Twitter, and Instagram; bookmark the Free RPG Day website.
Schedule some roleplaying events! I'm keeping PDFs of RPGs (including Level 1 anthologies and Free RPG Day modules) in a binder at Reference, ready for anyone who wants to try something out while at the library.
Search DriveThruRPG for freebies. There is a search feature that includes price, language, genre, and more; navigate and find games to introduce.
Promote your gaming library! If your branch or system has RPG books and resources, promote them with displays, flyers, bookmarks, or anything you want to come up with.
Get in touch with Free RPG Day and ask how libraries can work with them! The best way to show the people behind Free RPG Day that we are interested is to let them know we're here and willing to help.
More resources for your RPG collection:
Dungeons & Dragons were superstars during the 2020 shutdown, making a lot of their gaming modules available for free. You can download the Basic Rules at the DnD website. The Basic Rules is a 180-page document that runs from Levels 1-20 and covers major classes: cleric, fighter, rogue, and wizard, with a handful of race options (dward, elf, halfing, human). It's a quick and affordable way to get started. Visit DnD's downloadable's page for free adventures and character sheets. Hit Dice Cove's webpage for more DnD-related downloadable adventures. WhatNerd has a good article on more DnD freebies.
And if you're ready to start planning for another upcoming RPG Day, D20 is December 20th!