Hello, folks! After a morning fraught with technical difficulties, I bring you the latest and greatest Blog Tour from NatGeo Kids! Introducing…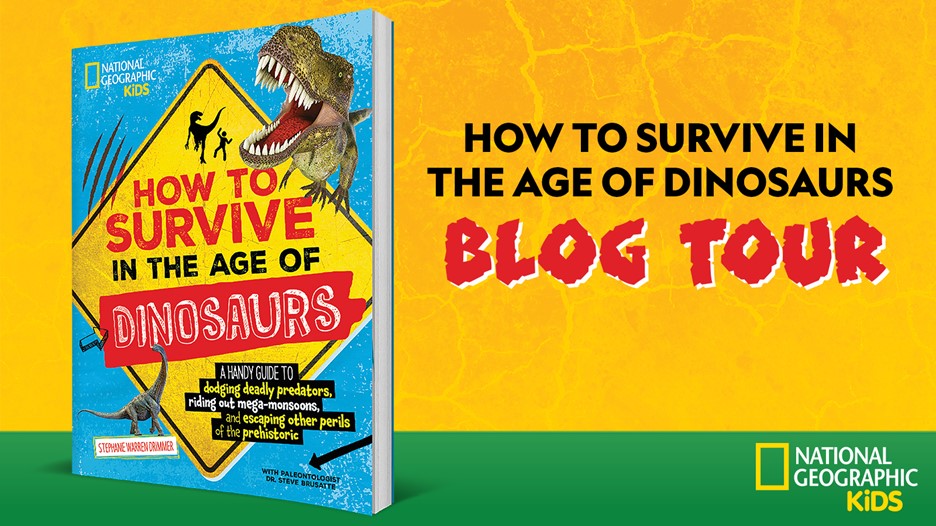 Welcome to the blog tour for
How to Survive in the Age of Dinosaurs,
part of National Geographic Kids' DinoMAYnia – a month-long celebration of all things prehistoric!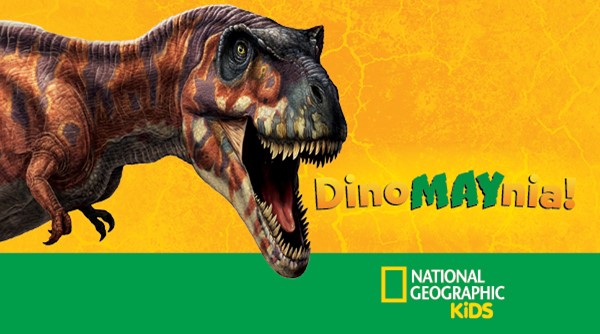 All week blogs are hosting fun excerpts from this handy guide so you will know just what it takes to dodge deadly dinosaurs, ride out mega monsoons and escape other perils of the prehistoric!
How To Survive the World Before Dinosaurs
Before you can try your luck at surviving the age of dinosaurs, you have to make it through what came just before: the Permian. It's home to animals so strange they seem like fictional monsters. They dominate Earth for millions of years, until nearly all are wiped out by the biggest extinction event in the history of our planet. This catastrophe clears the world of competitors, setting the stage for dinosaurs to rise up. Can you survive it?
The Permian: 299-252 million years ago
Known For: The most catastrophic extinction in history
Best Place for Home Base: Northern Pangea…but be prepared to sweat
Your Main Food Source: Mega-size insects
Try to avoid: Going extinct along with 90 percent of the planet's species
BIG Bugs
Your stomach rumbles. If you're going to last another day in the Permian, you need food. You glance around—nope, not a single restaurant or grocery store in sight. That's when you hear a buzz near your ear. The Permian is crawling with insects—some of them mega-size. Could you make a meal out of these big bugs?
During the early Permian, insects reach enormous proportions. There are dragonflies that could do aerial combat with the largest modern birds and go head-to-head with millipedes as long as a human is tall. Never again in the history of Earth would insects be so large.
What is it about the ancient world that allows these creatures to become supersize? Part of the answer is oxygen. At this time, the atmosphere contains far more oxygen than it has in the modern age—over 10 percent more. This allows Permian-era insects to fuel up more efficiently, freeing them to grow large. Then, there's the second reason: Birds haven't evolved yet. With no birds around, large, slow-moving insects have one fewer predator to worry about — and one fewer critter competing with them for meals. This also allows them to get big.
Those enormous insects would have made a great food source. Most insects are rich in protein, healthy fats, iron, and calcium. In modern times, about two billion people worldwide eat insects regularly. But it takes a lot to make a meal: If you were to snack on ants in modern times—say, red ants, for example—you'd need to eat more than 30 pounds (14 kg) of them a day to get the calories you'd need to stay healthy. Even if you spent all your time hunting and eating small, modern insects, you still might not gather enough to survive.
That's not a problem in the time of giant insects. A single dragonfly-like Meganeuropsis would be enough to fuel you for several meals. Giant insects can even be dried and packed for eating on the go, like insect jerky. So big bugs would have been good eating.
Did You Know?
Spiders, scorpions, millipedes, centipedes, and some beetles survived the Permian extinction!
How to Survive in the Age of Dinosaurs:
A Handy Guide to Dodging Deadly Predators, Riding Out Mega-Monsoons and Escaping Other Perils of the Prehistoric
(ages 8-12, Paperback, National Geographic Kids Books)
Boom, boom, BOOM … Look out! That's a T. rex coming your way!? You've been transported back in time to the age of the dinosaurs. What do you do?!
Test your chops and discover if you have what it takes to survive at a time when Earth looked, well, a tad different in this ultimate survival guide to the prehistoric age.
Find out how to make it through exploding volcanoes and mega monsoons—while dodging giant Permian bugs! See how to fend off an angry pterosaur and learn what to do if you're caught in a stampede of enormous titanosaurs. Discover what you could eat (spoiler alert: You better like the taste of insects!), and find out which hungry creatures just might try to eat you!
Packed with tips, tricks, and helpful maps, this is the ultimate handbook for dinosaur fans who want to know what life on Earth was really like when dinos ruled. Could you survive in the age of dinosaurs?
About the Author
Stephanie Warren Drimmer is an award winning science writer based in Los Angeles, California. She writes books and magazine features for kids about everything from the strangest places in space, to the chemistry of cookies, to the mysteries of the human brain. She has a degree in science journalism from New York University…but she thinks she likes writing for kids because she's secretly still one herself.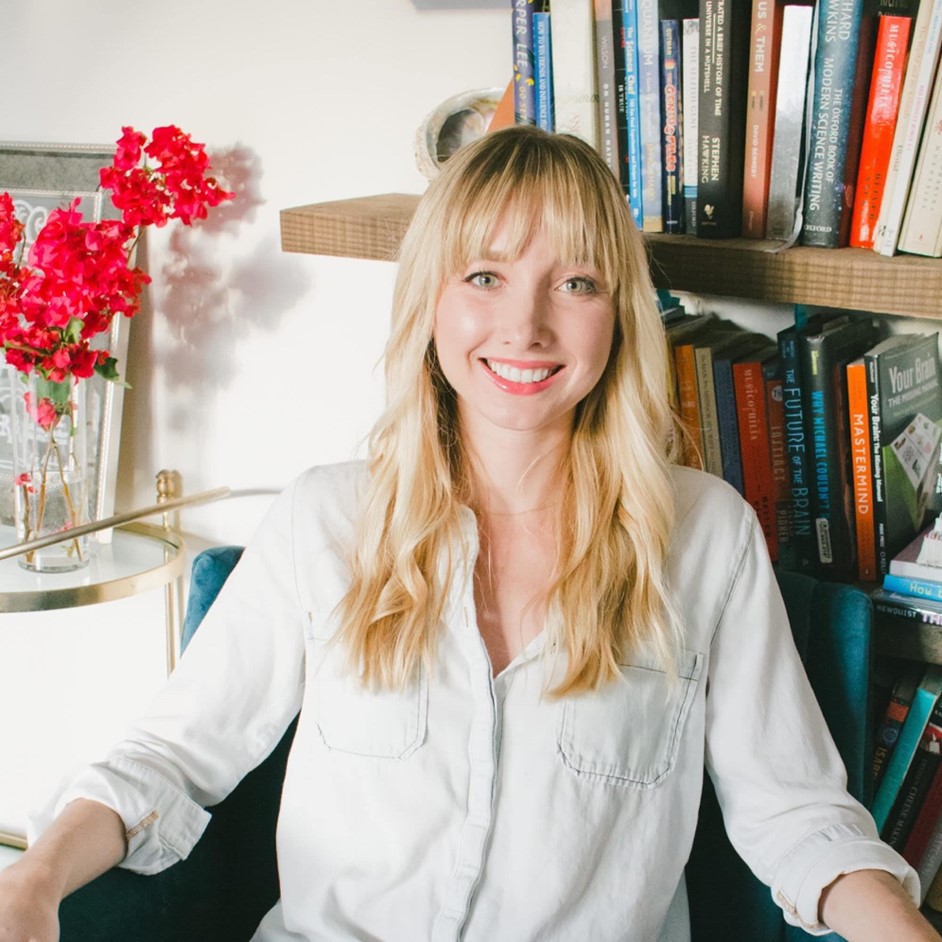 About the Expert Contributor
Dr. Steve Brusatte vertebrate paleontologist and evolutionary biologist and professor at the University of Edinburgh who specializes in the anatomy, genealogy, and evolution of dinosaurs and other fossil organisms. He has written over 110 scientific papers, published six books (including the adult pop science book The Rise and Fall of the Dinosaurs, the textbook Dinosaur Paleobiology, and the coffee table book Dinosaurs), and has described over 15 new species of fossil animals. He has done fieldwork in Brazil, Britain, China, Lithuania, Poland, Portugal, Romania, and the United States. His research is profiled often in the popular press and he is a "resident paleontologist" and scientific consultant for the BBC's Walking With Dinosaurs team.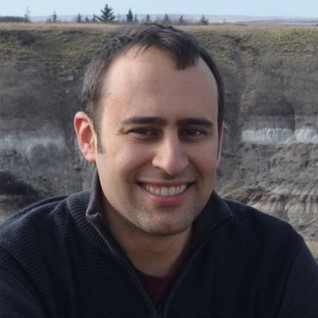 GIVEAWAY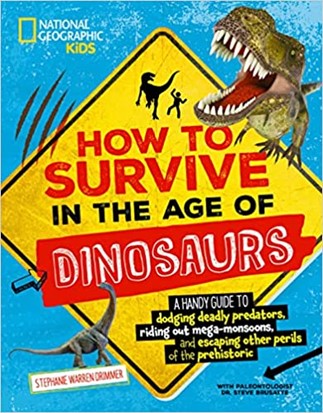 One (1) winner will receive a copy of How to Survive in the Age of Dinosaurs!
US/Can only
Ends 6/3 at 11:59 pm ET
Enter via the form below
Visit the other stops on the tour for more chances to win