Welcome to the
Destiny Finds Her Way
Blog Tour & Giveaway!
To celebrate the release of Destiny Finds Her Way by Newbery Honor winner Margarita Engle, blogs across the web are hosting guest posts from Margarita as well as the book's photographer, Sam Trull, who is also the co-founder and Executive Director of the Sloth Institute — a sloth rescue organization based in Costa Rica. Join us for a journey behind the scenes of how these two amazingly talented women teamed up to bring this inspiring, true story to readers everywhere and learn more about sloths and the work being done to protect them.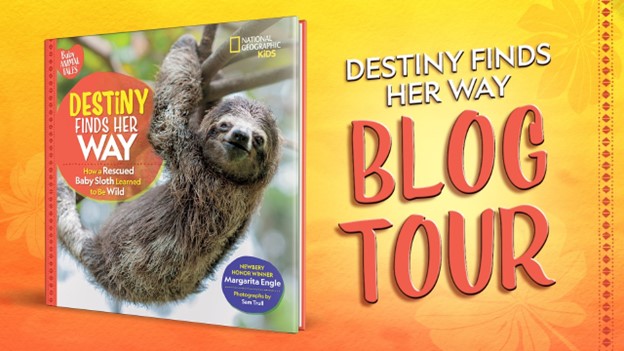 Rewilding Means Survival
by Margarita Engle
As a botanist, I have visited Costa Rica and other tropical rain forest regions at various times, beginning in the 1980s. As a Cuban American, I have loved tropical forests since my childhood visits to the island during the 1950s and early '60s, with many return trips since 1991.
There is no substitute for the protection of forests and planting of additional native trees. Every breath we inhale has passed through a green leaf. Every living species is dependent on the balance between oxygen and carbon dioxide. Tropical forests are one of the essential sources of global balance. By protecting trees, we can slow climate change and avoid catastrophe.
Costa Rica has protected so much of its forest that it can be viewed as a role model for the rest of the world. Along with trees, wildlife survives. Sloths, monkeys, tapirs, jaguars, toucans, macaws, and other amazing species all benefit from rewilding. What is rewilding? It's simply the return to a natural state. In other words, a forest or other habitat is restored by protecting existing trees from logging, and by replanting trees on previously logged areas. In a truly rewilded habitat, all the native animals are protected too. Orphaned and injured ones are rescued, healed, and returned to the wild. Balance is restored, and species survive.
Destiny is just one inspiring example of the work accomplished by scientists dedicated to preserving biodiversity.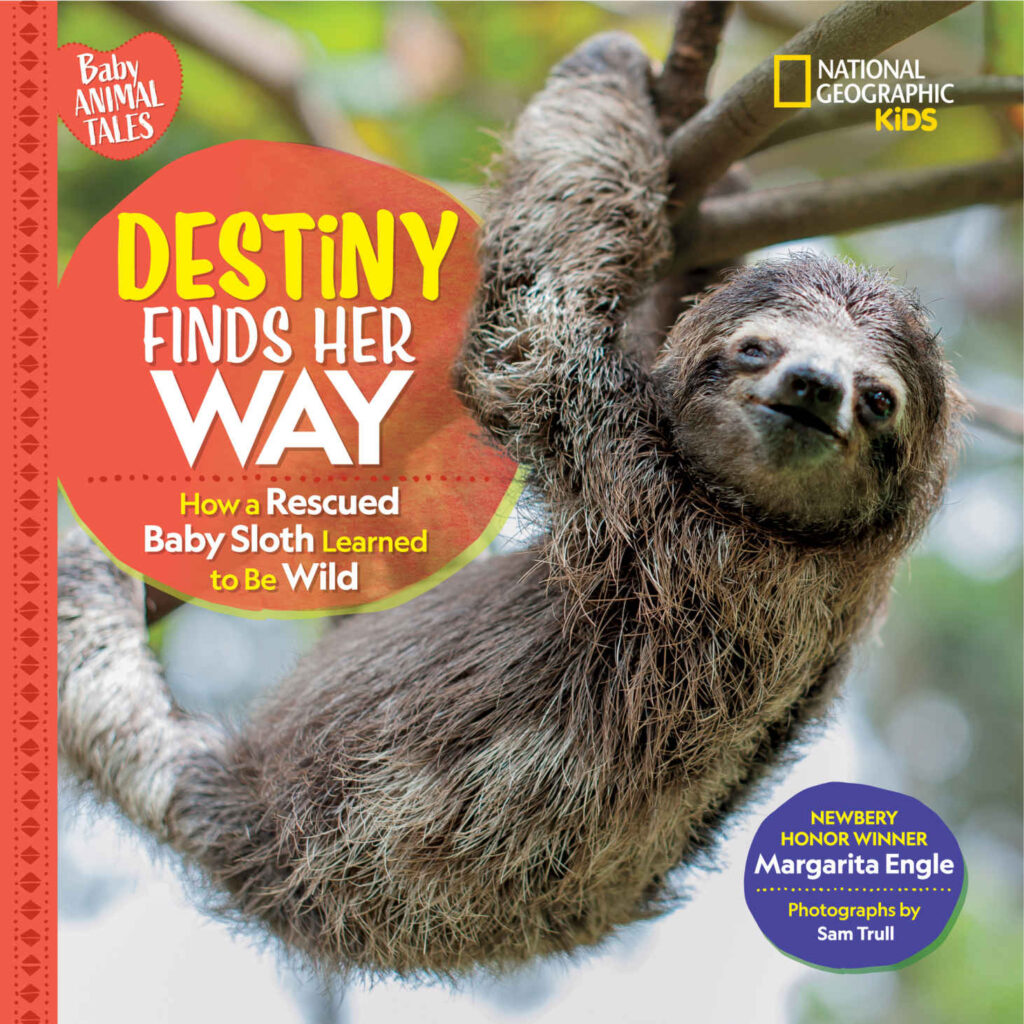 Buy | Buy on Bookshop.org | Add to GoodReads
About Destiny Finds Her Way
(ages 4-8, Hardcover Picture Book, National Geographic Kids Books)
Newbery Honor winner Margarita Engle and photographer and Sloth Institute Executive Director Sam Trull team up to bring the inspiring and true story to life of how Destiny, a motherless baby sloth, sightless in one eye and rescued by Sam in the Costa Rican rain forest, defies the odds, overcomes her obstacles of limited sight and learns the skills she will need to return to her wild, forest home.
Without her mother to protect her or teach her, Destiny is found and taken to a rescue center in Costa Rica. The little sloth soon befriends other orphaned sloths. Her poor eyesight, however, makes it hard for her to keep her balance. Eventually Destiny begins to use all of her senses to explore the world around her. But can she learn to climb? Can she master the other skills she needs to survive on her own? And will Destiny be brave enough to return to her wild, forest home?
In addition to learning about Destiny and her journey, readers are immersed in the world of sloths and sloth rescue in this uplifting story about overcoming obstacles and believing in yourself.
About the Author:
Margarita Engle is the Cuban-American author of many verse novels, memoirs, and picture books, including The Surrender Tree, Enchanted Air, Drum Dream Girl, and Dancing Hands. Awards include a Newbery Honor, Pura Belpré, Golden Kite, Walter, Jane Addams, PEN U.S.A., and NSK Neustadt, among others. Margarita served as the national 2017-2019 Young People's Poet Laureate. She is a three-time U.S. nominee for the Astrid Lindgren Book Award. Her most recent books are Rima's Rebellion, Singing With Elephants, and Destiny Finds Her Way. Her next young adult verse novel is Wings in the Wild, and her next picture book is Water Day.
Margarita was born in Los Angeles, but developed a deep attachment to her mother's homeland during childhood summers with relatives on the island. She studied agronomy and botany along with creative writing, and now lives in central California with her husband.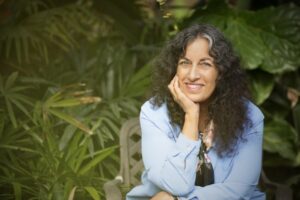 Website | Instagram | Facebook | Twitter
About the Photographer:
Sam Trull has been a photographer and a wildlife biologist for decades. After many expeditions to Madagascar, West Africa, and Central America, in January 2013, she settled in Costa Rica, where she co-founded and is the executive director of the Sloth Institute. Her first photo book, Slothlove, was published in April 2016.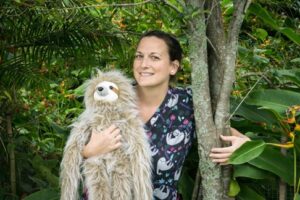 About the Sloth Institute: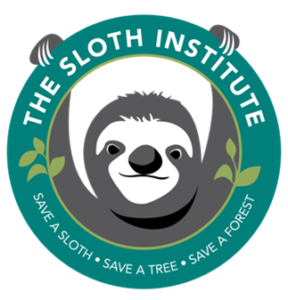 The Sloth Institute (TSI) is a nonprofit organization located in Costa Rica with the mission to enhance and expand the welfare and conservation of sloths through rescue, rehabilitation, release, research, and education. In addition, TSI works on targeted conservation projects to improve the safety and quality of sloth habitats and teaches other rescue centers how to better care for and release their sloths. TSI believes that all sloths were born to be wild and deserve that second chance at freedom.
Website
|
Instagram
|
Facebook
|
Twitter
GIVEAWAY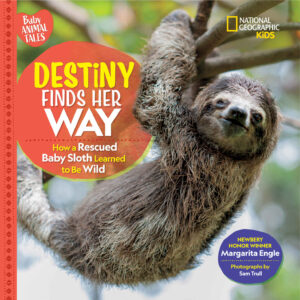 One (1) winner will receive a copy of Destiny Finds Her Way
US/Can only
Ends 3/18 at 11:59 pm ET
Enter via the Rafflecopter below
Visit the other stops on the tour for more chances to win!
https://widget-prime.rafflecopter.com/launch.js
Blog Tour Schedule:
March 6th — Pragmatic Mom
March 7th — Heise Reads and Recommends
March 8th – Mom Read It
March 9th — Unleashing Readers
March 10th — Imagination Soup